Taiwan Excellence Participated in New Southbound Policy:
innovative products that amaze
people in
Jakarta-Indonesia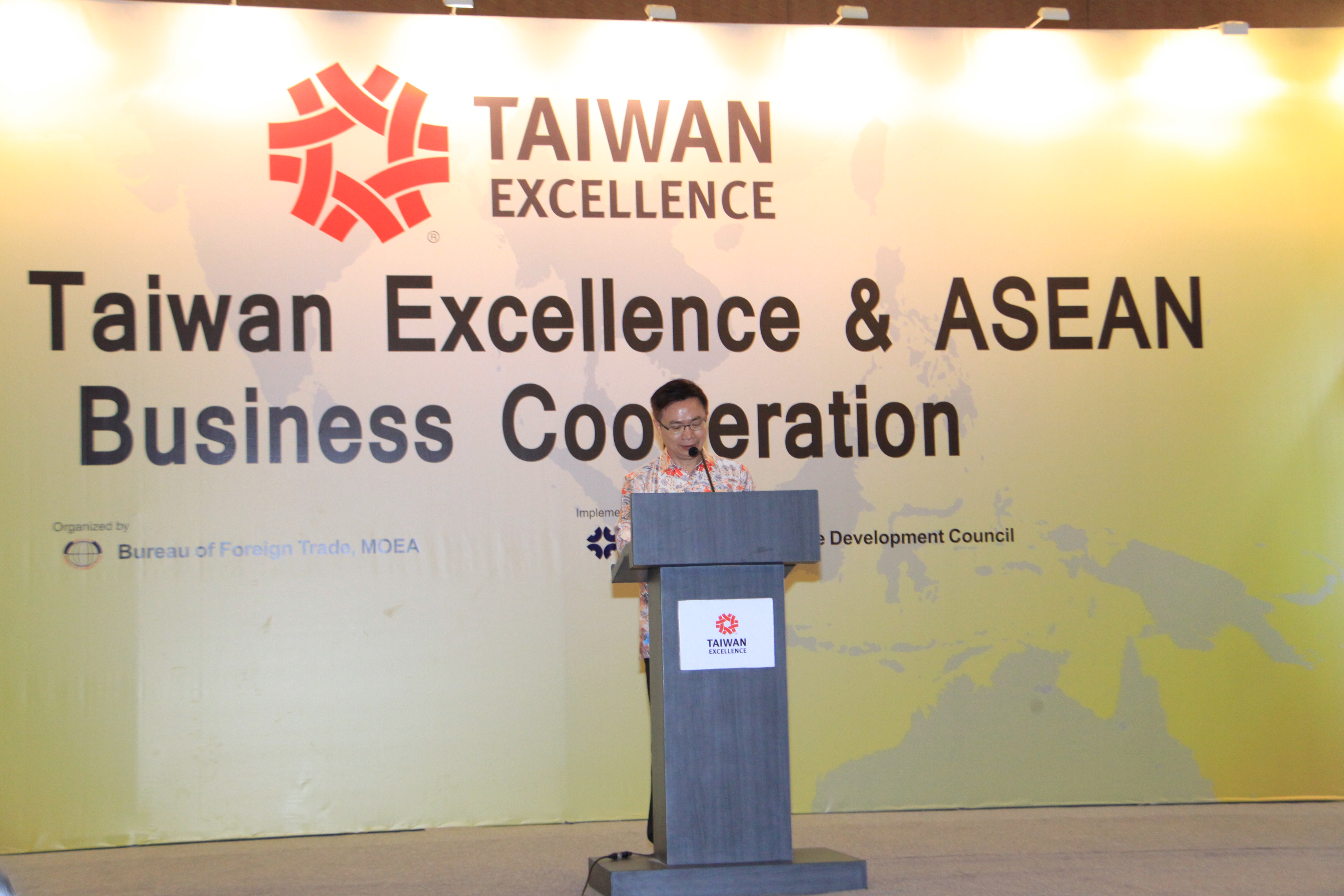 Southeast Asia is currently experiencing an economic acceleration. Increasing the level of middle-class consumption, as well as ownership of their domestic markets which is unusually large,this has been making a highlight in the international market scale. In line with the policy of Taiwan, "Go South" (New Southbound Policy), Taiwan Product Image Promotion Project which implemented by the Bureau of Foreign Trade and organize by the Division of Taiwan External Trade Development Council, will hold a "New soutbound Policy Kick-Off Press Conference" on March 3, 2017. This event was held in Indonesia (as the largest economy in Southeast Asia), precisely in Central Park Shopping Center Jakarta and also be the starting point in a series of promotional activities of Taiwan Excellence in Southeast Asian countries, such as Indonesia, Vietnam, Philippines, Malaysia, and Thailand together with their flagship products to the south asia market.



Indonesian traditional dances will be shown as the opening act at the press conference. Chairman of the Bureau of International Trade in the Ministry of Economy, Yang Zhenni, in his speech said that Taiwan has the power of innovation and a strong technology industry. Moreover, in terms of industrial development, the diversity of natural resources, complement economic relations and trade patterns, and scope for other industries, Taiwan and ASEAN countries actually have a chance of greater cooperation. In addition, the Chairman of the Association of International Trade, Huang Zhifang said that Taiwan Excellence is a choice product that has the power of innovative design, high market competitiveness, and reflects the innovative spirit of Taiwan's industrial flagship product. In addition, Taiwan via New Southbound Policy, will also perform a variety of integrated marketing activities and will actively to develop the opportunities for cooperation with countries in the south.
In this press conference, Ivan Gunawan, an Indonesia famous fashion designer, show a perfect combination between traditional Indonesian clothes and Taiwan Excellence logo with a traditional totem Indonesia. It is a symbol of the closeness of cooperation between Indonesia and Taiwan. YuanitaChristiani, who became the first ambassador of Taiwan Excellence stated that she was looking forward for more opportunities to experience and acquire the innovativeTaiwan products. Datong Electronics Branch Manager Indonesia, Richard Liu also mentioned that this year Datong Electronics already has four products that have won the Taiwan Excellence Award. "(We want) to thank for their support during this time of Indonesian consumers. We also will continue to innovate so that it can continue to share the best products with the Indonesian people ". he said
The campaign to the Taiwan Excellence products this time, 56 Taiwan brands will be showcasedwith a total of more than 130 products. This of course will attract the local community and the media to attend and participate in the event. Taiwan Excellence Award winner in 2017, Acer Predator 21 X is an success example of technological innovation which managed to attract people to come and feel the power of the world's first Curved Pen equipped with eye tracking technology. Heartway Taiwan, another winner of Taiwan Excellence Award 2017, also featuring Small Electric Scooter S21, which is one option for elderly people who want to travel far. The virtue of this product is that it has an automatic steering function and weighs only 19kg.
The importance of the Southeast Asian market position continues to rise each day. This year's Taiwan Excellence will issue more activities to meet and socialize with consumers Indonesia. Some of them are promotional activities in shopping centers in Jakarta and Surabaya, the establishment of Taiwan Excellence by professional museum exhibition Indonesia, exhibition image / art Indonesia-Taiwan, manufacture Taiwan Excellence's public road running. development of long-term sales outlets Taiwan Excellence, etc. In addition, the Taiwan Excellence will also be joined by 260,000 fans Indonesia to hold O2O activities (online-offline) to increase the popularity and influence of Taiwan's products and brand to consumers in Indonesia.